I recently was introduced to Laura of
Austentation's Etsy Shop
and of
Austentation.com
Her shop has recently added 18 inch items as well as wonderful items for the 6 inch American Girl Dolls!
Laura was kind enough to share a bit about her self, her family and her passion!
Laura is also a mom of three herself, to Emilie, 7, Bella 5 and Max 3. Her shop is an offshoot of her
Austentation.com
site, "My
Etsy Shop
is a way to offer one of a kind items and other products that don't "neatly" fit into the Regency Era timeframe of Austentation. It's been so much fun to explore different genres in this way! "
K: How did you get started with Etsy?
"My sister in law encouraged me to try
Etsy
and I finally got a chance to, in October 2011"
K:What dolls do you have both 18 inch and 6 inch American Girl dolls?
"Right now, I own an 18" Marie Grace, (2) 18" Felicity Dolls (my daughter's favorite!) and a 6" Caroline. There are other dolls in our home, but these are "mommy's"."
K:What do you like creating most for your shop?
"I love the flexibility Etsy offers in allowing shop owners to try items as one of a kind pieces, to see how they do-- sometimes you have just a germ of an idea and that can spawn a whole new direction for your products. I still love creating the one of a kind hats and bonnets that I first began with on Austentation, but now I get to try them on the dolls."
"My husband takes all my photos and prepares them for use in the shop and I credit him with any success I have had. He is always so patient as I dress the dolls or set up the tea sets or lay out the jewelry...sometimes dozens of times in an evening."
K:What is it about this time period that appeals most to you?
"My first love is the Regency, and by that I don't mean the "actual" Regency period of 1811-1820, but the more accepted "Regency Era" of the late 1700's to about 1820-- really, the span of Jane Austen's life (1775-1817)"
K:What do you want my readers to know about yourself, your shop and your passion?
"My
shop
has grown in the past 15 months from a place to offer ready made or one of a kind Regency related items, into a showcase of all my interests. Even a quick perusal will give a pretty good idea of my "spare time" interests-- historical dress, Regency/Victorian Literature, dolls, miniatures and even popular films and television series'".
"As a mother of three small children whom we homeschool, it is sometimes hard to juggle the demands of being mother, teacher, homemaker and crafter. It is inspiring to me to have the example of the excellent wife in Proverbs 31, who embodies all of these ideals with such grace and success. It is my prayer that I will be able to use my time wisely and bring that kind of presence to our home."
K: Have you read all the Caroline and Marie Gracie historical series?
I" have very much enjoyed reading through the Caroline books (I devoured them in about 48 hours!) and have skimmed the Marie-Grace books, though I have set these aside until I can read them together with the girls later on this year, as they "fall" in the way of the overview of American History that we are studying."
"I had the pleasure of meeting Kathleen Ernst in Boston in October and we were able to laugh over her "saving" of my son, since reading her book, A Surprise for Caroline, I was about to return home after swimming lessons when I had to stop in the parking lot to find my keys. In the moments it took me to look into my bag and find them, my son Max, age 2, managed to find, pick and eat some berries growing by the side of the parking lot."
"I had just finished reading through the rest of the Caroline series, and thanks to that "research" I recognized the berries as Poke Berries. In the story, Caroline tries to dye some doll hair with them and ends up stained purple. There's a great illustration, though, of the berries on a bush and when I saw it, I recognized the common weed we have here in MA, which I always called Bird Berries."
"Thanks to the story, and the illustration, I was able to run inside and use my husband's Ipad (the wonders of technology, today!) to search Wikipedia and discover that they were NOT poisonous, as I'd always assumed. If I hadn't read the Caroline books that weekend, I'd have been left on the phone with Poison Control trying to describe some berry in the parking lot and probably ending up at the ER, unnecessarily!"
K: Have you read the American Girl Mysteries?
I have skimmed a few of them (Kit, Felicity, Rebecca, Samantha) as my daughter is only JUST into reading them.
K:What is your favorite Austen book and why?
"My favorite of Jane Austen's novels would have to be Persuasion. Captain Wentworth's constancy would win any girl's heart (uniform or no) but over all I find the book to be the most "mature" of her works-- we may not all have Elizabeth Bennet's bright looks and sparkling wit, but I think most of us can feel for Anne as she deals with difficult people, circumstances and situations, some of which are even the results of her own choices. Which of us cannot look back with regret at our own actions, and yet still hope for a happy resolution?"
K: Which Austen character to you identify most with?
"LOL! That depends on the day! I'd love to say Elizabeth Bennet or Anne Elliot or even Elinor Dashwood, but there are times when I feel like I'm channeling my inner Caroline Bingley! I do think that Mr. Knightly is my favorite hero, though I am lucky enough to be so "Happily situated myself" that I do not pine for any of them."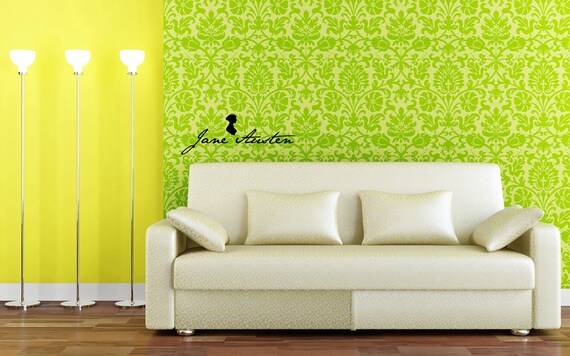 Be sure to check out her wall art! I was in awe!

Click here

to view it ~Karen Mom of Three
"That being said, I think I might be most like Emma Woodhouse-- perhaps hasty in word or deed, but often with only the "best" (if mistaken) of intentions at heart. I am certainly blessed to have such a patient family"
Emilie and Bella with Kathleen Ernst, author of the Caroline books.
I hope you have enjoyed today's post as much as I have, I love Jane Austen and I hope you will love
Austentation Regency Accessories
, incorporating some Regency Doll Play Items into your doll play collection shows that " A Lady can never be too fine..."
As with all my posts I would love to hear from you so please leave me a comment here or email me at karenmowen@gmail.com