An interesting question was raised on one of my doll group pages on Facebook, Do Dollies get cold feet? I have always thought so and thus far make sure my dolls have shoes on when the weather turns from Flip Flop Attire. As my own feet are often cold, I am constantly reminding my boys to put on socks, sometimes I wear two pair. Today's Post is all about doll shoe patterns to keep your dolls toes toasty warm.
When my mother was alive, my father would buy her new Moccasins each year at Christmas, seeing them in the stores reminds me of her and the wonderful memories of Christmas past. This
pattern offered on Pixiefaire
by
Miche Designs
looks just like the slippers my mother used to wear.
Click here for pattern listing offered at $3.99
Another of my favorite designers
Stacy & Stella from pixeldust
designs offers this wonderful
Sherpa Boot Pattern
also on
Pixiefaire for $3.99
For those of you who do not sew may I recommend my favorite slippers by
Springfield Dolls
?
These wonderful bunny slippers are an item I purchase time and time again for doll lovers for birthday gifts, stocking stuffer and basket fillers,
FYI A great item to add to advent pockets too!
I find mine in-store when Micheal's has a coupon and stash them away!
If cute bunny slippers are not sophisticated enough for your doll lover check out the
fuzzy pink ones Springfield also offers by clicking here
also offered at $4.99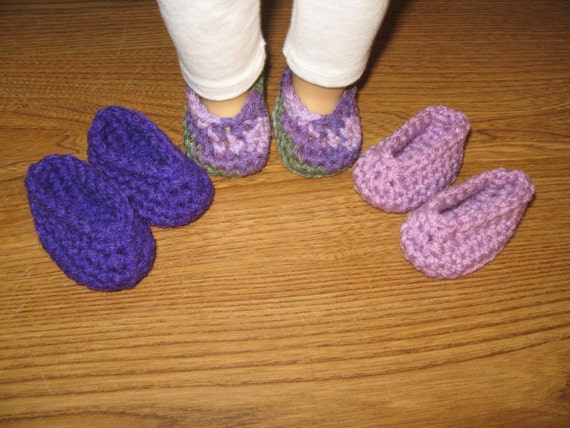 One of the best deals on Etsy currently is 3 pairs of crochet doll slippers for $5 offered by My Mom's Dolls....again put these away for Easter Basket Stuffers or your advent pockets!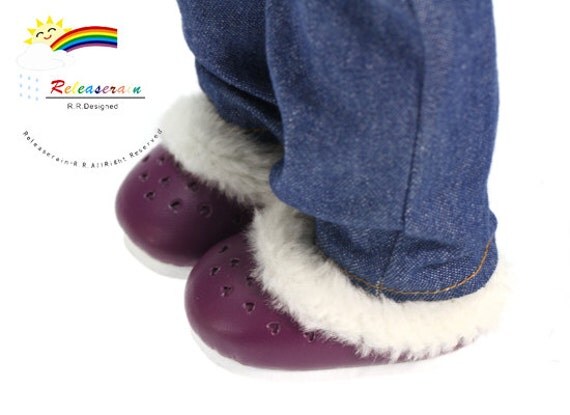 ***The important thing to remember when putting shoes on your dolls is to make sure that they are not lined with a fabric that is going to leak color on your dolls "skin" light colored fabric is always a good idea if you are leaving your doll in shoes for long periods of time. Even if you are worried about her feet getting cold, make sure she has socks to protect her feet or leave the shoes off when you are not playing with her, just to be on the safe side!
As with all my posts I would love to hear from you so please leave me a comment here or email me at karenmowen@gmail.com