Jayla Brandy's daughter was so excited to play with the Glassware and Treats set she made. She played for a bit and then and said, "You know what would make this set even more perfect? Pralines!!!" Wow! Great idea! She learned a lot reading Cecile and Marie-Grace's books.
Well, her wish was Brandy's command.
"It has been a very long time since I have had a praline, so I had to look a picture up on the internet. I think they came out cute....AND...Jayla was thrilled." says Brandy
Brandy used two types of fun foam in tan and brown, cut small circles about the size of a quarters to create the base of your pralines and then snip small rectangles and then glue them to your praline base.
I found a recipe on line to make a Microwave version of Pralines, if you would like to try to make your own this looks like a very fun and easy way to enjoy some time together in the kitchen. To see this and other wonderful recipes
click here
to visit
All Recipes. com
I am so thankful to Brandy for her on going contributions to this blog. As with all my posts I would love to hear from you so please feel free to leave me a comment here or email me at karenmowen@gmail.com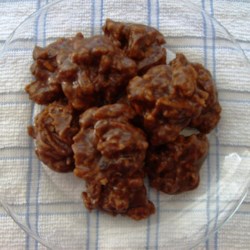 You will need:
1 1/2 cups brown sugar
2/3 cup heavy cream
1/8 teaspoon salt
2 tablespoons margarine
1 1/2 cups pecan halves
1 teaspoon vanilla extract
In a large, microwave safe bowl, combine sugar, cream, salt, margarine and pecans. Microwave 9 minutes on high, stirring once. Let rest 1 minute. Stir in vanilla and continue to stir 3 minutes more. Drop by teaspoonfuls onto buttered waxed paper. (If mixture is runny, allow to cool 30 seconds more and try again