I love the way the internet connects us. I subscribe to
Creative Jewish Mom's website
and they have a great feature called Craft Schooling Sunday and this week they featured this doll poncho from
Lanas de Ana's Blog.
I long to learn how to to crochet and this pattern reminds me that I need to get myself to a class.
Check out
Lanas de Ana's Blog by clicking here
and I highly recommend
Creative Jewish Mom.Com
for so many wonderful craft ideas.
For some reason the pattern is now missing for the doll, but as I clicked through the links the pattern was

based on this one

click here for the original pattern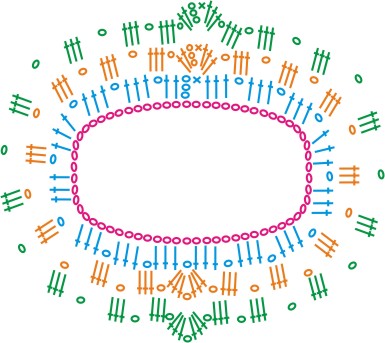 For the pattern: This is from http://www.lemondedesucrette.com/2010/10/13/about-ponchos-and-pattern-d/
All you have to make is a chain big enough to enter through Baby (or Doll) head and a multiple of 8: (It is very important that the chain is a multiple of 8!! For the baby I made a chain of 72)

and after that you follow this graphic pattern:
I am truly sorry for the missing pattern and hope that it can be adapted from the one above.
As with all my posts I would love to hear from you so please leave me a comment here or email me at karenmowen@gmail.com